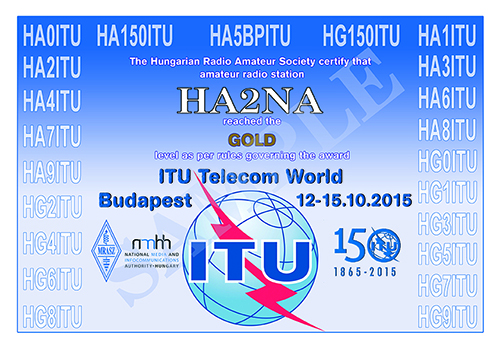 Hungary has the pleasure to organize the Telecom World Conference in 2015. It's held by the International Telecommunications Union every year in different cities. This year the event will take place in Budapest.
On this occasion the MRASZ (Hungarian Radioamateur Society) organizes an activity on the air. Several special stations will work with the prefixes of HA0-HA9 and HG0-HG9 and the ITU suffix in their callsign. But there will be HA5BPITU on the air instead of HA5ITU, referring to Budapest (BP) as the location of the Conference. Besides that the HA150ITU and HG150ITU special calls will be active too.
The e-QSL system will be used for the confirmation of the contacts and we do not ask for paper QSL card. But if you need paper card, you can get it on direct way. In this case please send yours to the address of István Solti, HA5AGP (http://www.qrz.com/db/ha5agp) with 1 valid IRC or 2 USD and a SAE (self-addressed envelope).